We are experienced experts for biogas and biogas plants. We carry out expert analysis for companies, insurances and courts for 15 years in the field of biogas.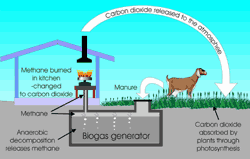 We are especially focused on damage analysis of the various mechanical components of biogas plants, which we can profoundly test and analyse, in order to give you an understanding of the cause of the failure. We will then judge the effort necessary, in order to rehabilitate the damaged components, so that the plant will be able to work in a proper manner.
FISCHER Engineering is member of the Fachverband Biogas e.V. and has been working for many years as experts in the field of Biogas for various companies.
We work as experts in the field of biogas, especially here with mechanical components, - pipes, valves, pumps, rotating components, etc.. We are not chemists, so that we would recommend to contact the Fachverband Biogas in Freising/Germany in case of problems due to the chemistry of the content of your biogas plant.