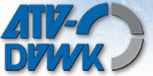 This module is based on the ATV-A 161 (Januar 1990) and the DVGW Merkblatt GW 312.
This program can be applied to round shape jacking pipes, which are placed in the grund by straight jacking methods and static loading. Pipes can be either pulled or pushed. The laying of the pipes has to be done according to the DVGW-Merkblatt GW 304 and the ATV/DWA-Arbeitsblatt ATV-A 125, which are general standards of common ground.
The intelligent Software PipeWorks for the static proof calculation of jacking pipes provides the possibility of calculating pressurised and pressureless pipes with regard to their embedding conditions and the material. The wallthickness of the pipe can be optimised, failures can be avoided, for the same function high costs can be saved and transparent alternative solutions can be shown if needed.

Additionally to the materials listed in the GW 312 and ATV-A 161 plastic pipes and be caluculated The following materials are provided within the database: concrete, reinforced concrete, asbestos cement, Steel, clay, cast iron, PE-HD, PVC and UP-GF. All other materials can be set by the user very easlily.

We appreciate to send you a free Test-Version.